Asheron's Call 2 MultiClient is a program that makes it easy to log into more than one Asheron's Call or Asheron's Call 2 account at a time.
To use AC2MC to run more than one AC1 client at a time, you currently must have Decal running with the Dual Log option checked and working. AC2MC will change the port for each client to be at least 25 ports apart.
On the "Login" tab select the account you want to log into from the drop down box and type in your password. Choose either Asheron's Call or Asheron's Call 2. Select your server and then click the login button.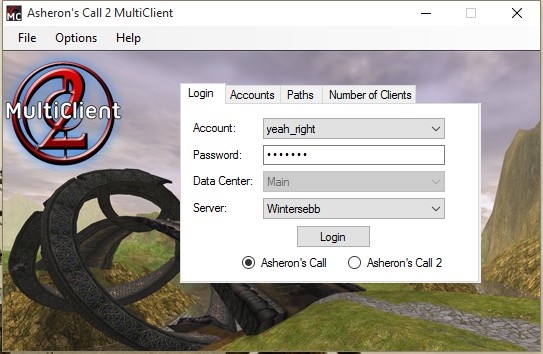 To add an account, go to the "Accounts" tab. Simply type in the account name and click on the "Add" button. You may add a nickname for the account either when you create your account or later by selecting an account from the dropdown box and then in the box below typing in a nickname and then clicking on Save. To remove an account, select the account from the drop down box and click on the "Remove" button.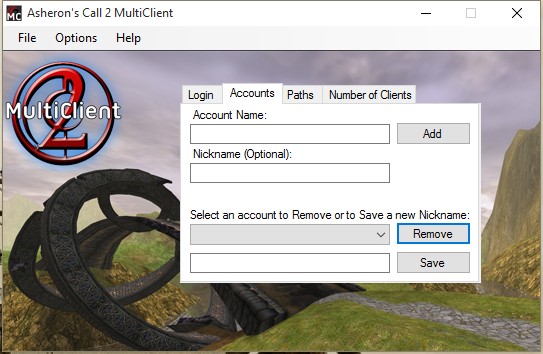 The "Paths" tab will let you set the paths to Asheron's Call and Asheron's Call 2 if they are not found in default locations. Just click on the "Find" button below the appropriate game and browse to the path where you have installed it. Click on the "Open" button once you are there.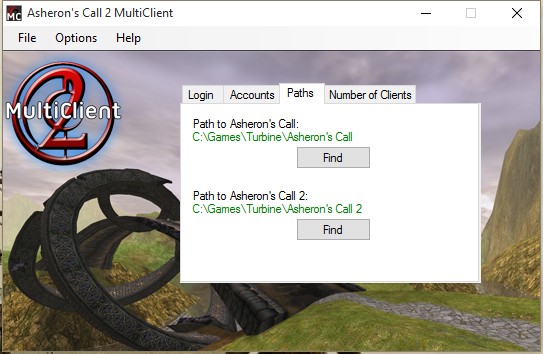 On the "Number of Clients" tab you can set how many Asheron's Call or Asheron's Call 2 clients you will be running at one time. Type the number of clients into the box for the appropriate game and click on the "Set" button. This will copy all of that game's files into client numbered folders inside the game's directory. You can change the number of clients at any time and if you set the number of clients lower AC2MC will delete the extra client folders.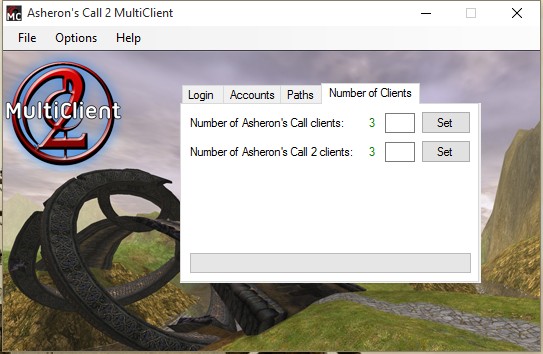 Under the Options menu, you can set whether or not to have AC2MC save your passwords for you, you can choose to use nicknames for your accounts, you can have AC2MC automatically check for updates to itself or you can check for updates manually, you can have Decal start when you start AC2MC, and you can set the starting port for AC1. If you are using AC2MC on more than one computer on the same network to launch AC1, make sure the starting ports on each computer are set far enough apart to allow for the number of clients you will be running.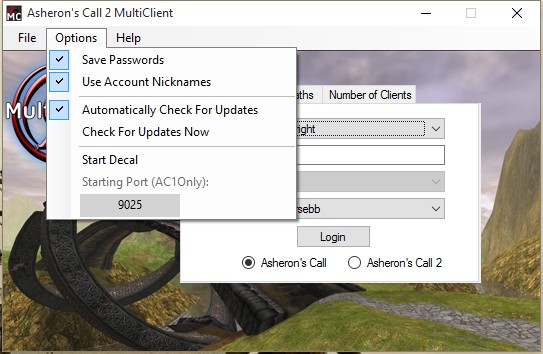 Support is provided through the forum.
Requirements
Known Issues
***ASHERON'S CALL 1 OPTIONS REQUIRE DECAL WITH THE DUAL LOG OPTION CHECKED***Running more than one instance of AC1 only works if Decal is running and the Dual Log Patch is enabled and working
1.1.5697.30755
-Bug Fix: Finding the path information after it was already set would add duplicate entries to the database that could cause problems
-Added code to better detect multiple AC1 or AC2 clients already installed
-Bug Fix: Typo would cause the same port to be used for each AC1 client
-Updated the small AC2MC icons (Not all places where they are seen will be affected unless a reinstall is done from the .msi)
1.1.5696.24071
Added the option to start Decal when AC2MC starts
-Bug Fix: UserSpecifiedPort was getting set to 0 in the AC1 Userpreferences.ini file(This did not affect logging in to AC1 with AC2MC, but would affect trying to log in without it)
1.1.5682.18892
Enabled AC1 options
Bug Fix: Not storing path information in the database correctly when no paths are known possibly causing issues with saving any information to the database
Various other small bug fixes
Minor updates to the database
1.1.5675.24118
Added elevated prompt for automated update in case it's needed
Small update to the database
Changed the layout of the About form
Added a Changelog option to the help menu that will also show the first time the program is run after an update
1.1.0
Bug Fix: Not properly storing path info if AC2 is not installed in the default location
Bug Fix: Index Out of Range error on first log in when trying to log in to more than one account
Bug Fix: Getting "All clients are currently in use." message when clients should be available
-New Feature: Asheron's Call 2 MultiClient can now log you in to both Asheron's Call and Asheron's Call 2
-New Feature: You can now give your accounts nicknames (Option can be turned on or off)
First Release
Encrypts stored account information in the database
Automatically copies the AC2 files for you based on the number of clients you choose to run at one time (You must have an active Asheron's Call 2 account for each client you wish to run.)
Automatically checks for updates (You can turn this off by selecting the Options menu and unchecking "Automatically Check For Updates")
The "Continent" and "Server" drop down boxes are currently disabled while there is only one server to log into